BENEFICIOS DE LA DEPILACION CON HILO
Realizada con un hilo de algodón 100%, esta técnica ancestral y popular en oriente es, desde luego, el mejor método de depilación facial por las ventajas que ofrece frente a cualquier otro método de depilación.
Es totalmente natural, ideal para pieles sensibles, alérgicas o con machas o lunares. Esta técnica no irrita la piel. Es compatible con otros tratamientos ya que no elimina ninguna capa de la epidermis.
Extrae el vello de raíz. Así lo debilita y retarda su crecimiento. Incluso los más cortos, sin tener que esperar a que crezcan. Cuando vuelve a crecer el vello es más débil y más fino.
Es perfecta para el diseño de cejas, por su precisión y limpieza en el acabado. Somos expertos en el diseño de cejas, que realizan nuestras artistas, tras el estudio personalizado de cada rostro.
No estira la piel, por lo que previene la aparición de arrugas, manchas y flacidez. Este método no agrede ni la piel ni el musculo. En el caso de la depilación con cera, se elimina la primera capa de piel, por lo que resulta agresiva. Y el tirón de la cera puede llegar a producir el descolgamiento del músculo.
Su efecto peeling, suaviza las arrugas ya existentes.
Es más rápido y menos doloroso que otros métodos. ¡Te sorprenderá lo rápido que trabajan nuestras profesionales con el hilo entre sus manos!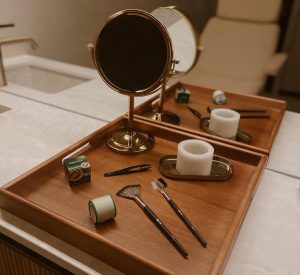 Por todas estas características, sabemos que la depilación con hilo crea verdadera adicción una vez que la has probado. Son muchas las celebrities  que usan esta forma de depilación, y son clientas de nuestros centro, donde confían el diseño de sus cejas a nuestras chicas  para lucir perfectas y cuidar su piel.
Prueba nuestros diseños de cejas con hilo de algodón orgánico en nuestra cabina individual!
English version:
Made with a 100% cotton thread, this ancestral and popular technique in the East is, of course, the best method of facial hair removal for the advantages it offers over any other method of hair removal. It is totally natural, ideal for sensitive, allergic skin or with bruises or moles. This technique does not irritate the skin. It is compatible with other treatments because it does not remove any layer of the epidermis. It extracts the root hair. It weakens it and slows its growth. Even the shortest ones, without having to wait for them to grow. When it grows back the hair is weaker and finer. It is perfect for eyebrow design, for its precision and cleanliness in the finish. We are experts in the design of eyebrows, made by our artists, after the personalized study of each face.
It does not stretch the skin, so it prevents the appearance of wrinkles, spots and sagging. This method does not attack the skin or muscle. In the case of waxing, the first layer of skin is removed, making it aggressive. And the pull of the wax can lead to the decomposition of the muscle. Its peeling effect softens existing wrinkles. It's faster and less painful than other methods. You'll be surprised how fast our professionals work with the yarn in their hands!
For all these characteristics, we know that hair removal with yarn creates real addiction once you have tried it. There are many celebrities who use this form of hair removal, and they are customers of our center, where they entrust the design of their eyebrows to our girls to look perfect and take care of their skin. Try our eyebrow designs with organic cotton yarn in our individual cabin!