¿Conoces todos los beneficios de la sauna ?
La sauna tiene efectos muy buenos sobre el organismo, al liberar, mediante sudoración, que suele ser abundante y rápida, toxinas y activar la circulación sanguínea. Siempre va acompañada con contrastes de temperatura, a la sesión de calor le sigue una de enfriamiento, que amplía los efectos de la sudoración. Se toma con fines higiénicos y terapéuticos.
Activa tu sistema inmunitario
Alivia el Estrés
Activa el colágeno y mejora la piel
Mejora la circulación
Anti-Edad
Alivia el dolor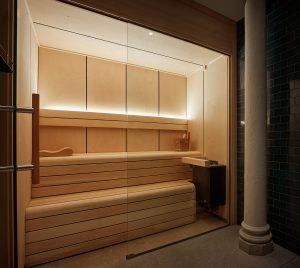 Tenemos opción de infrarrojos o tradicional.
Podrá disfrutar de nuestra sauna tanto finlandesa que eleva la temperatura del aire a niveles muy altos, alrededor de 80°C, como de infrarrojos, que calientan hasta unos 45°C, a través de nuestros rituales DETOX & GLOW, o bien simplemente a través de sesiones individuales para conseguir todos sus beneficios.
Prueba nuestra sauna de infrarrojos y tradicional, sobre todo a final de día para bajar toda la tensión, relajarte y conciliar mejor el sueño.
Coge el habito de dedicarte un tiempo en nuestra sauna, y sentirás los efectos tan beneficiosos como el yoga y la meditación.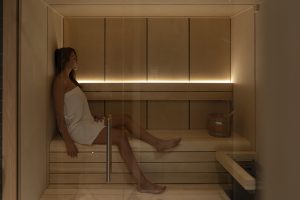 Reserva tu bono de sesiones con nosotros y disfruta mínimo una vez a la semana.
English version:
The sauna has very good effects on the body, releasing toxins through sweating, which is usually abundant and fast, and activating blood circulation. It is always accompanied by temperature contrasts, the heat session is followed by a cooling session, which amplifies the effects of sweating. It is taken for hygienic and therapeutic purposes.
Do you know all the benefits of sauna?
Activates your immune system
Relieves stress
Activates collagen and improves skin
Improves anti-aging
Improve circulation
Relieves pain
We have infrared or traditional option.
You can enjoy our sauna both Finnish that raises the air temperature to very high levels, around 80°C, and infrared, which heat up to about 45°C, through our rituals DETOX & GLOW, or simply through individual sessions to get all your benefits. Try our infrared and traditional sauna, especially at the end of the day to lower all the tension, relax and sleep better. Take the habit of spending some time in our sauna, and you will feel the beneficial effects as yoga and meditation. Book your session bonus with us and enjoy at least once a week.